Czech Republic's largest LGBT event. This year, the week-long Prague Gay Pride runs from August 5th-11th. Expect lots of fun activities - concerts, workshops, theatre, exhibitions, film, lectures, discussions, dance parties. The parade takes place in the city centre on Saturday, August 10th. Check the website for full details and program. ...read more
LGBT History Month is an annual month-long observance of lesbian, gay, bisexual and transgender history, and the history of the gay rights and related civil rights movements.[1] LGBT History Month provides role models, builds community, and represents a civil rights statement about the contributions of the LGBT community.[2] Currently, LGBT History Month is a month-long celebration that is specific to the United States, the United Kingdom and Canada. In the United States and Canada, it is celebrated in October to coincide with National Coming Out Day on October 11.[3] In the United Kingdom, it is observed during February, to coincide with a major celebration of the 2003 abolition of Section 28.[4] In Berlin, It is known as Queer History Month.[5] Other LGBT-progressive countries, however, celebrate LGBT History with much shorter events.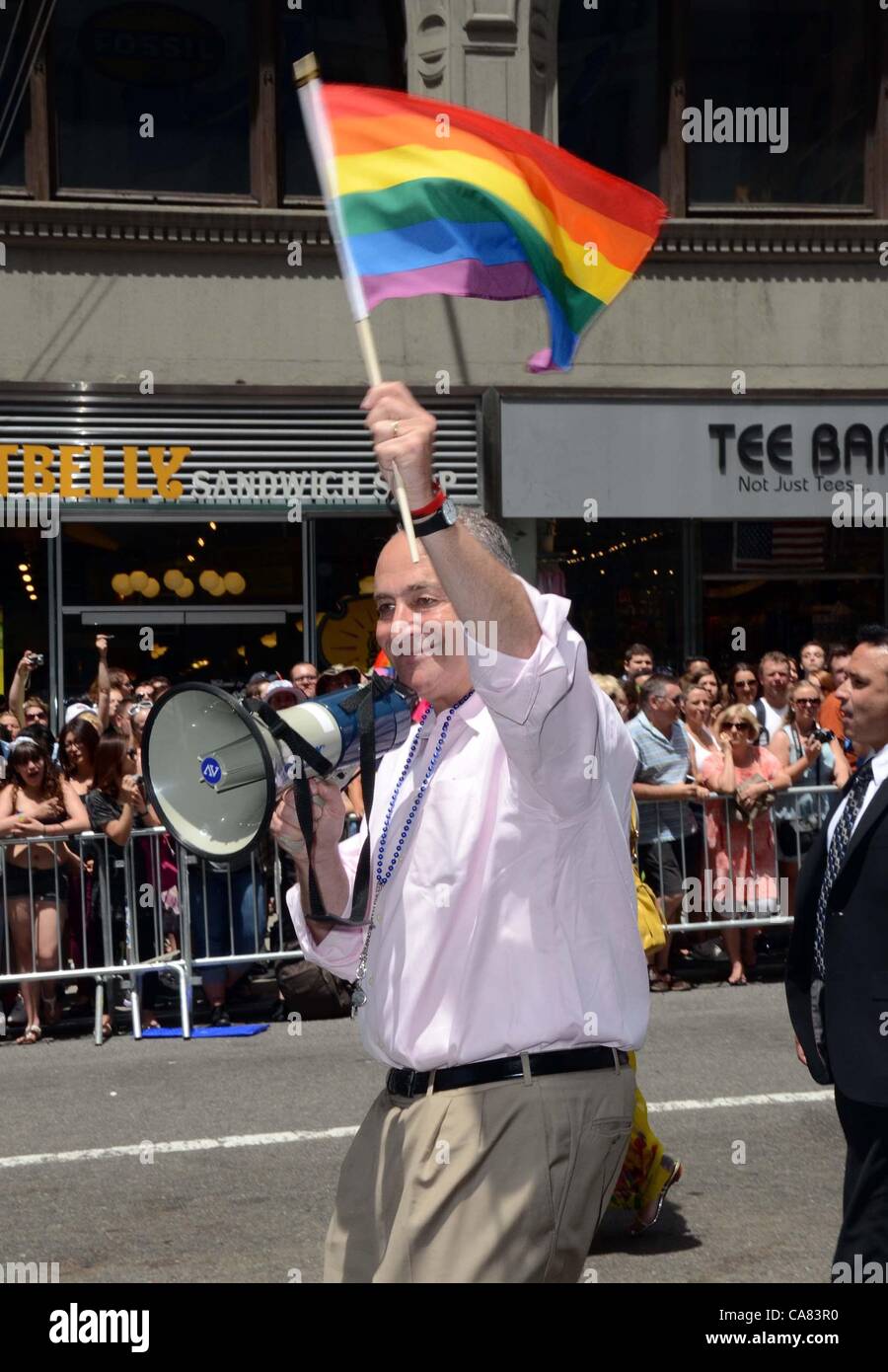 In 1995 MCC, ProGay Philippines and other organizations held internal celebrations. In 1996, 1997 and 1998 large and significant marches were organized and produced by Reachout AIDS Foundation, all of which were held in Malate, Manila, Philippines. In 1998, the year of the centennial commemoration of the Republic of the Philippines, a Gay and Lesbian Pride March was incorporated in the mammoth "citizens' parade" which was part of the official centennial celebration. That parade culminated in "marching by" the President of the Philippines, His Excellency Joseph Estrada, at the Quirino Grandstand in Luneta Park in Manila.
Both Berlin Pride and Cologne Pride claim to be one of the biggest in Europe. The first so-called Gay Freedom Day took place on June 30, 1979 in both cities. Berlin Pride parade is now held every year the last Saturday in July. Cologne Pride celebrates two weeks of supporting cultural programme prior to the parade taking place on Sunday of the first July weekend. An alternative march used to be on the Saturday prior to the Cologne Pride parade, but now takes place a week earlier. Pride parades in Germany are usually named Christopher Street Day.
Queer Culture Festivals in South Korea consist of pride parades and various other LGBT events, such as film festivals. Currently there are eight Queer Culture Festivals, including Seoul Queer Culture Festival (since 2000), Daegu Queer Culture Festival (since 2009), Busan Queer Culture Festival (since 2017), Jeju Queer Culture Festival (since 2017), Jeonju Queer Culture Festival (since 2018), Gwangju Queer Culture Festival (since 2018), and Incheon Queer Culture Festival (since 2018).[61]
Prides in Russia are generally banned by city authorities in St. Petersburg and Moscow, due to opposition from politicians, religious leaders and most people.[citation needed] Moscow Mayor Yuri Luzhkov has described the proposed Moscow Pride as "satanic".[94] Attempted parades have led to clashes between protesters and counter-protesters, with the police acting to keep the two apart and disperse participants. In 2007 British activist Peter Tatchell was physically assaulted.[95] This was not the case in the high-profile attempted march in May 2009, during the Eurovision Song Contest. In this instance the police played an active role in arresting pride marchers. The European Court of Human Rights has ruled that Russia has until January 20, 2010 to respond to cases of pride parades being banned in 2006, 2007 and 2008.[96] In June 2012, Moscow courts enacted a hundred-year ban on pride parades.[97]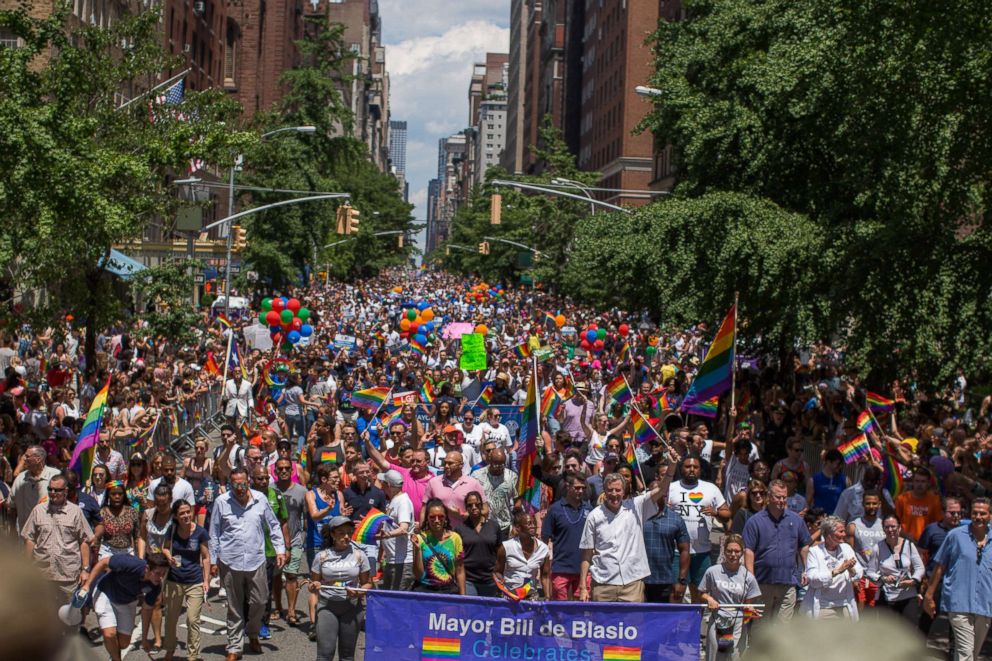 Other Southeastern Brazilian parades are held in Cabo Frio (Rio de Janeiro), Campinas (São Paulo), Vitória (capital of Espírito Santo), and Belo Horizonte and Uberaba (Minas Gerais). Southern Brazilian parades take place in Curitiba, Florianópolis, Porto Alegre and Pelotas, and Center-Western ones happen in Campo Grande, Cuiabá, Goiânia and Brasília. Across Northeastern Brazil, they are present in all capitals, namely, in Salvador, Aracaju, Maceió, Recife, João Pessoa, Natal, Fortaleza, Teresina and São Luís, and also in Ceará's hinterland major urban center, Juazeiro do Norte. Northern Brazilian parades are those from Belém, Macapá, Boa Vista and Manaus.
Nepal Pride Parade is organized on June 29 every year. There are also Pride Parades organized by Blue Diamond Society and Mitini Nepal. A youth led pride parade which uses broader umbrella terms as Queer and MOGAI, is organized by Queer Youth Group and Queer Rights Collective. Blue Diamond Society's rally on Gai Jatra is technically not considered as a Pride Parade. [62] Mitini Nepal organizes Pride Parades on Feb 14 while, a Queer Womxn Pride is also organized on International Women's Day.
In August 2012, the first Ugandan pride parade was held in Entebbe to protest the government's treatment of its LGBT citizens and the attempts by the Ugandan Parliament to adopt harsher sodomy laws, colloquially named the Kill the Gays Bill, which would include life imprisonment for aggravated homosexuality.[45] A second pride parade was held in Entebbe in August 2013.[46] The law was promulgated in December 2013 and subsequently ruled invalid by the Constitutional Court of Uganda on August 1, 2014 on technical grounds. On August 9, 2014, Ugandans held a third pride parade in Entebbe despite indications that the ruling may be appealed and/or the law reintroduced in Parliament and homosexual acts still being illegal in the country.[47]
For 2019, Pride Island will occupy Pier 97, in the heart of Hell's Kitchen, and as per usual you can expect top-notch performers. While the line-up is yet to be confirmed, Pride Island has a history of attracting the biggest performers of any pride in the world. Last year, Pride Island welcomed Aussie pop princess, Kylie Minogue, while previous years have seen Ariana Grande, Cher, and the late Whitney Houston take to the stage.     
Nepal Pride Parade is organized on June 29 every year. There are also Pride Parades organized by Blue Diamond Society and Mitini Nepal. A youth led pride parade which uses broader umbrella terms as Queer and MOGAI, is organized by Queer Youth Group and Queer Rights Collective. Blue Diamond Society's rally on Gai Jatra is technically not considered as a Pride Parade. [62] Mitini Nepal organizes Pride Parades on Feb 14 while, a Queer Womxn Pride is also organized on International Women's Day.
October was chosen by Wilson as the month for the celebration because National Coming Out Day already was established as a widely known event, on October 11, the date of the Second March of Washington for Lesbian and Gay Rights., In 1987,[10] October also commemorated the first National March on Washington for Lesbian and Gay Rights by LGBT people in 1979.[6] LGBT History Month is intended to encourage honesty and openness about being LGBT.[10]
The growth and commercialization of Christopher Street Days, coupled with their de-politicalisation, has led to an alternative CSD in Berlin, the so-called "Kreuzberger CSD" or "Transgenialer" ("Transgenial"/Trans Ingenious") CSD. Political party members are not invited for speeches, nor can parties or companies sponsor floats. After the parade there is a festival with a stage for political speakers and entertainers. Groups discuss lesbian/transsexual/transgender/gay or queer perspectives on issues such as poverty and unemployment benefits (Hartz IV), gentrification, or "Fortress Europe".
Mardi Gras was Sydney's contribution to the international gay solidarity celebrations, an event that had grown up as a result of the Stonewall riots in New York. Mardi Gras was one of a series of events by the Gay Solidarity Group to promote the forthcoming National Homosexual Conference, and offer support to San Francisco's Gay Freedom Day and its campaign against California State Senator John Brigg's attempts to stop gay rights supporters' teaching in schools. It was also intended to protest the Australian visit of homophobic[according to whom?] Festival of Light campaigner Mary Whitehouse.[26]
In March 2011, Toronto mayor Rob Ford said that he would not allow city funding for the 2011 Toronto Pride Parade if organizers allowed the controversial anti-Israel group Queers Against Israeli Apartheid (QuAIA) march again that year. "Taxpayers dollars should not go toward funding hate speech", Ford said.[185] In April 2011, QuAIA announced that it would not participate in the Toronto Pride Parade.[186]
In 1994, a coalition of education-based organizations in the United States designated October as LGBT History Month. In 1995, a resolution passed by the General Assembly of the National Education Association included LGBT History Month within a list of commemorative months. National Coming Out Day (October 11), as well as the first "March on Washington" in 1979, are commemorated in the LGBTQ community during LGBT History Month.
Meetings to organize the march began in early January at Rodwell's apartment in 350 Bleecker Street.[16] At first there was difficulty getting some of the major New York City organizations like Gay Activists Alliance (GAA) to send representatives. Craig Rodwell and his partner Fred Sargeant, Ellen Broidy, Michael Brown, Marty Nixon, and Foster Gunnison of Mattachine made up the core group of the CSLD Umbrella Committee (CSLDUC). For initial funding, Gunnison served as treasurer and sought donations from the national homophile organizations and sponsors, while Sargeant solicited donations via the Oscar Wilde Memorial Bookshop customer mailing list and Nixon worked to gain financial support from GLF in his position as treasurer for that organization.[17][18] Other mainstays of the organizing committee were Judy Miller, Jack Waluska, Steve Gerrie and Brenda Howard of GLF.[19] Believing that more people would turn out for the march on a Sunday, and so as to mark the date of the start of the Stonewall uprising, the CSLDUC scheduled the date for the first march for Sunday, June 28, 1970.[20] With Dick Leitsch's replacement as president of Mattachine NY by Michael Kotis in April 1970, opposition to the march by Mattachine ended.[21]