The 2011 New York City parade was held just two days after the legalization of gay marriage in the state of New York. Other pride parades include Miami Beach Pride, Boston Pride Parade, Rhode Island Pride in Providence, Chicago Pride Parade, Denver PrideFest, Columbus Pride, Cincinnati Pride, Albuquerque Pride, Atlanta Pride, Augusta Pride, Capital Pride, Come Out With Pride (Orlando), Circle City IN Pride, Houston Gay Pride Parade, Jacksonville Pride, Nashville Pride, New Orleans Decadence, Oklahoma City Pride and Festival, Orange County Pride, San Diego Pride, Long Beach (CA) LGBT Pride, Palm Springs Pride, Philly Pride, Portland Pride, Queens Pride, San Francisco Pride, Seattle Pride, St. Louis PrideFest, St. Pete Pride, Twin Cities Pride (Minneapolis/St. Paul) and Utah Pride Festival, among many others. In 2018, the small town of Homer, Alaska, held its first pride parade.
LGBT History Month is an annual month-long observance of lesbian, gay, bisexual and transgender history, and the history of the gay rights and related civil rights movements.[1] LGBT History Month provides role models, builds community, and represents a civil rights statement about the contributions of the LGBT community.[2] Currently, LGBT History Month is a month-long celebration that is specific to the United States, the United Kingdom and Canada. In the United States and Canada, it is celebrated in October to coincide with National Coming Out Day on October 11.[3] In the United Kingdom, it is observed during February, to coincide with a major celebration of the 2003 abolition of Section 28.[4] In Berlin, It is known as Queer History Month.[5] Other LGBT-progressive countries, however, celebrate LGBT History with much shorter events.
Like the other countries from the Balkans, Bulgaria's population is very conservative when it comes to issues like sexuality. Although homosexuality was decriminalized in 1968, people with different sexual orientations and identities are still not well accepted in society. In 2003 the country enacted several laws protecting the LGBT community and individuals from discrimination. In 2008, Bulgaria organized its first ever pride parade. The almost 200 people who had gathered were attacked by skinheads, but police managed to prevent any injuries. The 2009 pride parade, with the motto "Rainbow Friendship" attracted more than 300 participants from Bulgaria and tourists from Greece and Great Britain. There were no disruptions and the parade continued as planned. A third Pride parade took place successfully in 2010, with close to 800 participants and an outdoor concert event.
Pride parades (also known as pride marches, pride events, and pride festivals) are outdoor events celebrating lesbian, gay, bisexual, transgender and queer (LGBTQ) social and self acceptance, achievements, legal rights and pride. The events also at times serve as demonstrations for legal rights such as same-sex marriage. Most pride events occur annually, and many take place around June to commemorate the 1969 Stonewall riots in New York City, a pivotal moment in modern LGBTQ social movements.[4]
Nepal Pride Parade is organized on June 29 every year. There are also Pride Parades organized by Blue Diamond Society and Mitini Nepal. A youth led pride parade which uses broader umbrella terms as Queer and MOGAI, is organized by Queer Youth Group and Queer Rights Collective. Blue Diamond Society's rally on Gai Jatra is technically not considered as a Pride Parade. [62] Mitini Nepal organizes Pride Parades on Feb 14 while, a Queer Womxn Pride is also organized on International Women's Day.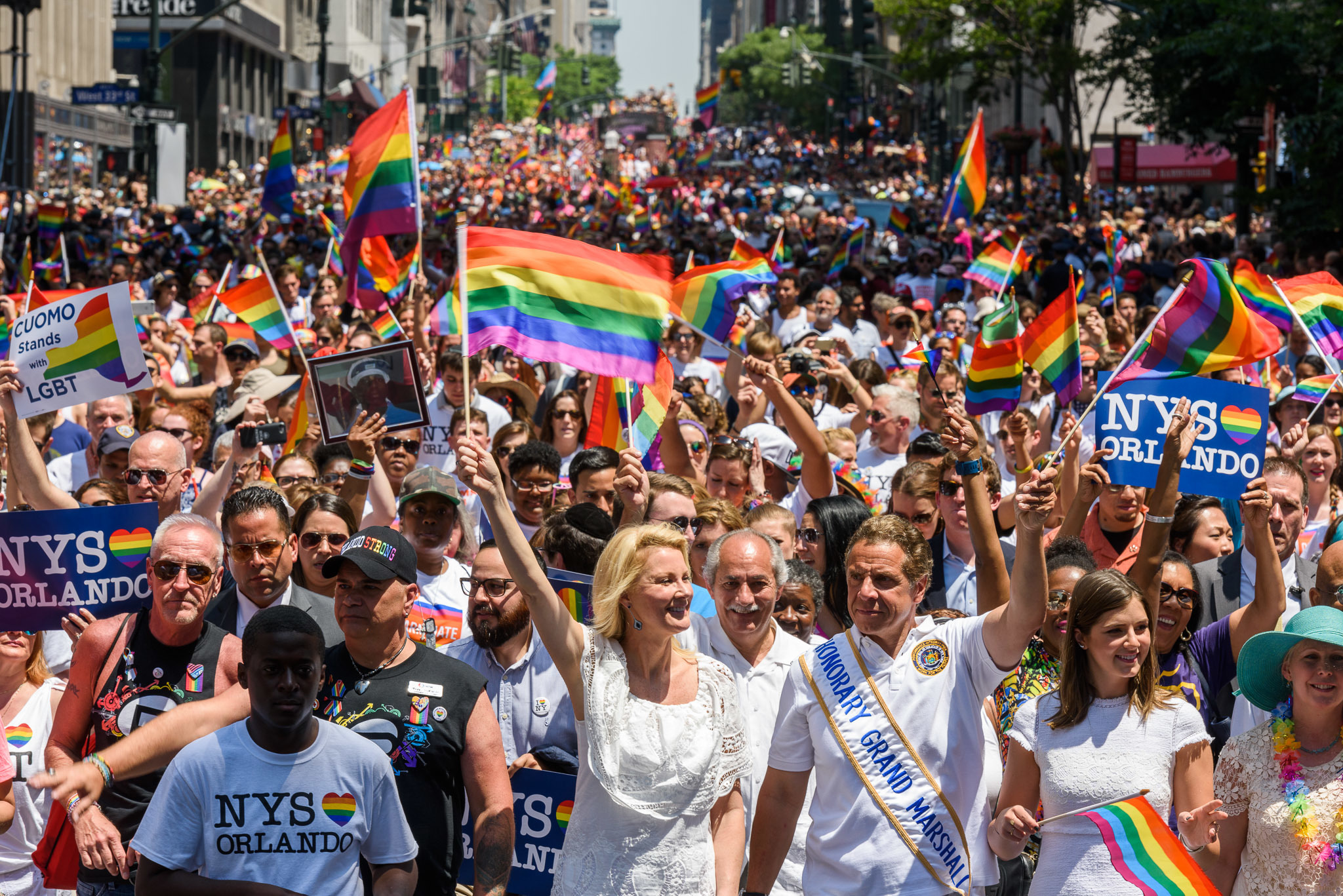 In March 2011, Toronto mayor Rob Ford said that he would not allow city funding for the 2011 Toronto Pride Parade if organizers allowed the controversial anti-Israel group Queers Against Israeli Apartheid (QuAIA) march again that year. "Taxpayers dollars should not go toward funding hate speech", Ford said.[185] In April 2011, QuAIA announced that it would not participate in the Toronto Pride Parade.[186]
Today, celebrations include pride parades, picnics, parties, workshops, symposia and concerts, and LGBT Pride Month events attract millions of participants around the world. Memorials are held during this month for those members of the community who have been lost to hate crimes or HIV/AIDS. The purpose of the commemorative month is to recognize the impact that LGBTQ individuals have had on history locally, nationally, and internationally.

Each year there are a series of parties and celebrations which take place throughout the city, and continue right up until the concluding Pride Parade, which happens towards the end of June. While the main parade usually takes place in the heart of Manhatten, pride events often transpire in other areas of the city too, including Brooklyn and Staten Island. 
In 2008, the Riga Pride was held in the historically potent 11. novembra krastmala (November 11 Embankment) beneath the Riga Castle. The participants heard speeches from MEPs and a message of support from the Latvian President. The embankment was not open and was isolated from the public with some participants having trouble getting past police cordons. About 300 No Pride protesters gathered on the bridges behind barricades erected by the police who kept Pride participants and the "No Pride" protesters separated. Participants were once more "bused" out but this time a 5-minute journey to central Riga.

In 2015 saw the first edition of OUTing The Past, a festival of LGBT History spearheaded by Dr Jeff Evans. The festival started in three venues in Manchester: the LGBT Foundation, The Central Library and the Peoples History Museum. Comprising several presentations of diverse history presented by a mixture of academics, LGBT enthusiasts and activists. Sitting alongside the popular presentations was an academic conference with the inaugural Alan Horsfall Lecture given by Professor Charles Upchurch of Florida University. This is now a yearly event funded by the Campaign for Homosexual Equality. Stephen M Hornby was appointed as the first National Playwright in Residence to LGBT History Month. The first production created as a result of this was a three part heritage premiere co-written with Ric Brady and performed across the weekend called "A Very Victorian Scandal" which dramatised new research about a drag ball in 1880 in Hulme.
The initiative received government backing from the deputy DfES and Equalities Minister Jacqui Smith, although some sections of the press argued against its political correctness, and pointed out that the sexuality of some historical figures is more a matter of speculation than fact.[16] Supporters of the event countered that it is important to challenge heterosexist attitudes in society.
Trinidad and Tobago organised its first pride parade on 27 July 2018 at the Nelson Mandela Park in Port of Spain.[179] Expressing his opinion on the march, Roman Catholic Archbishop Rev. Jason Gordon said: "TT is a democracy and as such members of society have a right to protest whenever they believe their rights are not being upheld or violated. (The) LGBT+ community has several areas where there is legitimate concern and these have to be taken seriously by the country and by the government and people of TT.[180] "
There are two cities in the U.S. territory of Puerto Rico that celebrate pride parades/festivals. The first one began in June, 1990 in San Juan; later in June, 2003 the city of Cabo Rojo started celebrating its own pride parade. The pride parade in Cabo Rojo has become very popular and has received thousands of attendees in the last few years. San Juan Pride runs along Ashford Avenue in the Condado area (a popular tourist district), while Cabo Rojo Pride takes place in Boquerón.
Critics, such as Gay Shame, charge the parades with an undue emphasis on sex and fetish-related interests, which they see as counterproductive to LGBT interests, and expose the "gay community" to ridicule. LGBT activists[who?] counter that traditional media have played a role in emphasizing the most outlandish and therefore non-representative aspects of the community. This in turn has prompted participants to engage in more flamboyant costumes to gain media coverage.
On July 21, 2009, a group of human rights activists announced their plans to organize second Belgrade Pride on September 20, 2009. However, due to the heavy public threats of violence made by extreme right organisations, Ministry of Internal Affairs in the morning of September 19 moved the location of the march from the city centre to a space near the Palace of Serbia therefore effectively banning the original 2009 Belgrade Pride.[100]