To Believe in Women, by Lillian Faderman, is a landmark book about lesbian history in the late nineteenth and twentieth century.  Unfortunately it is no longer available from our distributors, but it is offered through Amazon. To address the issue of the invisibility of lesbians in history books, we quote an excerpt from Living with History/Making Social Change, by Gerda Lerner, historian, author, and pioneer in the field of women's history: "Researchers in women's history often have to depend on autobiographical writing – diaries, letters, memoirs, and fiction – to piece together the life stories of women of the past. . . Self-descriptive narratives of women abound in omission and disguises. . . .A subset of autobiographies and biographies concerns women who had special friendships with other women prior to the period when lesbian relationships were defined.  Carroll Smith-Rosenberg's essay, "The Female World of Love and Ritual: Relations between Women in Nineteenth Century America," had long defined the discourse and also limited it (footnote omitted). Smith-Rosenberg had argued that single- sex friendships among women were accepted by society in the nineteenth century and were not considered marks of deviance.  Were modern historians justified in defining such friendships as lesbian relationships?  Were they reading modern interpretations into the past record?  The subject was mostly discussed and written about by lesbian historians, while heterosexual historians, coming upon ample evidence of such special friendships, gingerly danced around them.  Among the many prominent nineteenth-women who had lifelong stable relationships with other women, which involved shared home-making, shared finances, and often shared organizational responsibilities, were Jane Addams, Frances Willard, and M. Carey Thomas.  What kind of "evidence" did one need to define the relationship as lesbian?  Were such relationships lesbian if one could not prove sexual aspects?  Heterosexual authors often chose to ignore such relationships or to refer to them simply as "friendships," allowing the reader to draw her/his own conclusions. I urged historians to report honestly on what their sources told them about these relationships, without necessarily being able to report on how the participants or their contemporaries defined such relationships." From Living with History/Making Social Change, by Gerda Lerner (2009)
2019 will be extra special because New York will be hosting the iconic World Pride for the entire month of June. This will be the first time in World Pride's 20-year history that the event will take place in the USA. Pride means different things to everyone, which is why World Pride NYC offers a whole heap of LGBTQ activities during the celebrations.  
On Saturday, June 27, 1970, Chicago Gay Liberation organized a march[32][full citation needed] from Washington Square Park ("Bughouse Square") to the Water Tower at the intersection of Michigan and Chicago avenues, which was the route originally planned, and then many of the participants extemporaneously marched on to the Civic Center (now Richard J. Daley) Plaza.[33] The date was chosen because the Stonewall events began on the last Saturday of June and because organizers wanted to reach the maximum number of Michigan Avenue shoppers. Subsequent Chicago parades have been held on the last Sunday of June, coinciding with the date of many similar parades elsewhere. Subsequently during the same weekend, gay activist groups on the West Coast of the United States held a march in Los Angeles and a march and "Gay-in" in San Francisco.[34][35]
Meetings to organize the march began in early January at Rodwell's apartment in 350 Bleecker Street.[16] At first there was difficulty getting some of the major New York City organizations like Gay Activists Alliance (GAA) to send representatives. Craig Rodwell and his partner Fred Sargeant, Ellen Broidy, Michael Brown, Marty Nixon, and Foster Gunnison of Mattachine made up the core group of the CSLD Umbrella Committee (CSLDUC). For initial funding, Gunnison served as treasurer and sought donations from the national homophile organizations and sponsors, while Sargeant solicited donations via the Oscar Wilde Memorial Bookshop customer mailing list and Nixon worked to gain financial support from GLF in his position as treasurer for that organization.[17][18] Other mainstays of the organizing committee were Judy Miller, Jack Waluska, Steve Gerrie and Brenda Howard of GLF.[19] Believing that more people would turn out for the march on a Sunday, and so as to mark the date of the start of the Stonewall uprising, the CSLDUC scheduled the date for the first march for Sunday, June 28, 1970.[20] With Dick Leitsch's replacement as president of Mattachine NY by Michael Kotis in April 1970, opposition to the march by Mattachine ended.[21]
In 2015 saw the first edition of OUTing The Past, a festival of LGBT History spearheaded by Dr Jeff Evans. The festival started in three venues in Manchester: the LGBT Foundation, The Central Library and the Peoples History Museum. Comprising several presentations of diverse history presented by a mixture of academics, LGBT enthusiasts and activists. Sitting alongside the popular presentations was an academic conference with the inaugural Alan Horsfall Lecture given by Professor Charles Upchurch of Florida University. This is now a yearly event funded by the Campaign for Homosexual Equality. Stephen M Hornby was appointed as the first National Playwright in Residence to LGBT History Month. The first production created as a result of this was a three part heritage premiere co-written with Ric Brady and performed across the weekend called "A Very Victorian Scandal" which dramatised new research about a drag ball in 1880 in Hulme.
Take a look at resources from the Administration on Children and Families' National Clearinghouse on Youth and Families. These resources are geared at helping youth-serving organizations understand and more effectively support lesbian, gay, bisexual, transgender, and questioning young people: Serving Lesbian, Gay, Bisexual, Transgender and Questioning Youth With Open Arms.
On December 10, 2005, the First LGBT Freedom March, with the theme "CPR: Celebrating Pride and Rights" was held along the streets of España and Quiapo in Manila, Philippines. Concerned that the prevailing economic and political crisis in the country at the time presented threats to freedoms and liberties of all Filipinos, including sexual and gender minorities, LGBT individuals and groups, non-government organizations and members of various communities and sectors organized the LGBT Freedom March calling for systemic and structural change. At historic Plaza Miranda, in front of Quiapo Church, despite the pouring rain, a program with performances and speeches depicting LGBT pride was held soon after the march. On December 6, 2014, Philippines will be celebrating the 20th anniversary of the Metro Manila Pride March with the theme: Come Out For Love Kasi Pag-ibig Pa Rin (Come Out For Love Because It's Still All About Love). The theme is a reminder of the love and passion that started and sustained 20 years of taking to the streets for the recognition and respect of LGBT lives as human lives. It is also a celebration of and an invitation for families, friends, and supporters of LGBT people to claim Metro Manila Pride as a safe space to voice their support for the community, for the LGBT human rights advocacy, and for the people they love and march with every year.
From 2016, Schools OUT UK has partnered with a several contract publishers to produce magazines as an Official Guide to LGBT History Month, putting 35,000 copies of their publication into every secondary school in the UK, plus community spaces, charities and businesses. The magazine had introductions from the leaders of all the main political parties and the Mayor of London. The magazine's Diversity Dashboard runs job adverts and events listings from LGBT-friendly employers and the community.
For 2019, Pride Island will occupy Pier 97, in the heart of Hell's Kitchen, and as per usual you can expect top-notch performers. While the line-up is yet to be confirmed, Pride Island has a history of attracting the biggest performers of any pride in the world. Last year, Pride Island welcomed Aussie pop princess, Kylie Minogue, while previous years have seen Ariana Grande, Cher, and the late Whitney Houston take to the stage.     
LGBT History Month is an annual month-long observance of lesbian, gay, bisexual and transgender history, and the history of the gay rights and related civil rights movements.[1] LGBT History Month provides role models, builds community, and represents a civil rights statement about the contributions of the LGBT community.[2] Currently, LGBT History Month is a month-long celebration that is specific to the United States, the United Kingdom and Canada. In the United States and Canada, it is celebrated in October to coincide with National Coming Out Day on October 11.[3] In the United Kingdom, it is observed during February, to coincide with a major celebration of the 2003 abolition of Section 28.[4] In Berlin, It is known as Queer History Month.[5] Other LGBT-progressive countries, however, celebrate LGBT History with much shorter events.
Trinidad and Tobago organised its first pride parade on 27 July 2018 at the Nelson Mandela Park in Port of Spain.[179] Expressing his opinion on the march, Roman Catholic Archbishop Rev. Jason Gordon said: "TT is a democracy and as such members of society have a right to protest whenever they believe their rights are not being upheld or violated. (The) LGBT+ community has several areas where there is legitimate concern and these have to be taken seriously by the country and by the government and people of TT.[180] "
In March 2011, Toronto mayor Rob Ford said that he would not allow city funding for the 2011 Toronto Pride Parade if organizers allowed the controversial anti-Israel group Queers Against Israeli Apartheid (QuAIA) march again that year. "Taxpayers dollars should not go toward funding hate speech", Ford said.[185] In April 2011, QuAIA announced that it would not participate in the Toronto Pride Parade.[186]
Though the reality was that the Stonewall riots themselves, as well as the immediate and the ongoing political organizing that occurred following them, were events fully participated in by lesbian women, bisexual people, and transgender people, as well as by gay men of all races and backgrounds, historically these events were first named Gay, the word at that time being used in a more generic sense to cover the entire spectrum of what is now variously called the 'queer' or LGBT community.[37][38]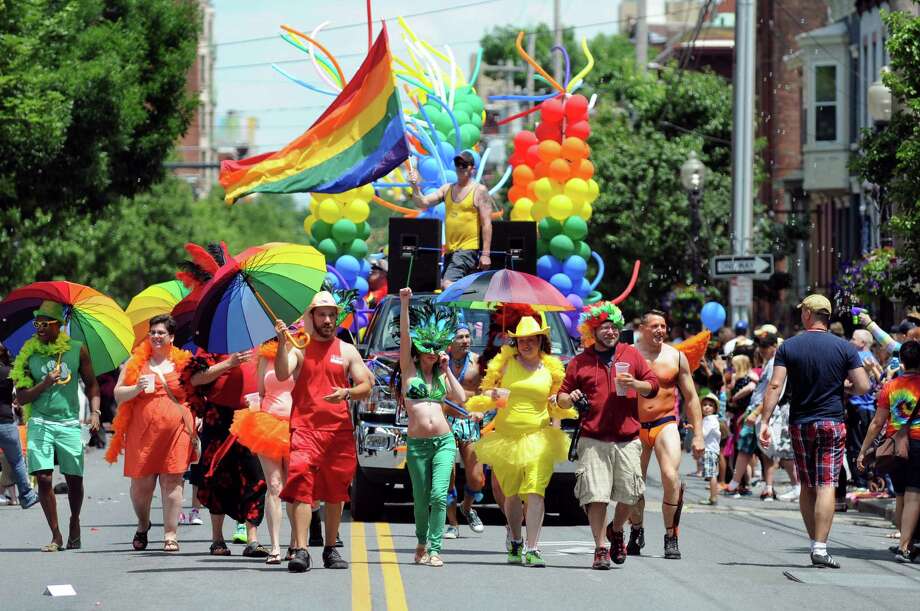 As of 2017, plans were advancing by the State of New York to host in 2019 the largest international celebration of LGBT pride in history, Stonewall 50 – WorldPride NYC 2019,[7] to commemorate the 50th anniversary of the Stonewall Riots. In New York City, the Stonewall 50 – WorldPride NYC 2019 events produced by Heritage of Pride will be enhanced through a partnership made with the I LOVE NY program's LGBT division and shall include a welcome center during the weeks surrounding the Stonewall 50 – WorldPride NYC 2019 events that will be open to all. Additional commemorative arts, cultural, and educational programming to mark the 50th anniversary of the rebellion at the Stonewall Inn will be taking place throughout the city and the world.[7] 

The 2011 New York City parade was held just two days after the legalization of gay marriage in the state of New York. Other pride parades include Miami Beach Pride, Boston Pride Parade, Rhode Island Pride in Providence, Chicago Pride Parade, Denver PrideFest, Columbus Pride, Cincinnati Pride, Albuquerque Pride, Atlanta Pride, Augusta Pride, Capital Pride, Come Out With Pride (Orlando), Circle City IN Pride, Houston Gay Pride Parade, Jacksonville Pride, Nashville Pride, New Orleans Decadence, Oklahoma City Pride and Festival, Orange County Pride, San Diego Pride, Long Beach (CA) LGBT Pride, Palm Springs Pride, Philly Pride, Portland Pride, Queens Pride, San Francisco Pride, Seattle Pride, St. Louis PrideFest, St. Pete Pride, Twin Cities Pride (Minneapolis/St. Paul) and Utah Pride Festival, among many others. In 2018, the small town of Homer, Alaska, held its first pride parade.