On June 29, 2008, four Indian cities (Delhi, Bangalore, Pondicherry and Kolkata) saw coordinated pride events. About 2,200 people turned up overall. These were also the first pride events of all these cities except Kolkata, which had seen its first such event in 1999 - making it South Asia's first pride walk and then had been organizing pride events every year since 2003[55] (although there was a gap of a year or so in-between). The pride parades were successful, given that no right-wing group attacked or protested against the pride parade, although the opposition party BJP expressed its disagreement with the concept of gay pride parade. The next day, Prime Minister Manmohan Singh appealed for greater social tolerance towards homosexuals at an AIDS event. On August 16, 2008 (one day after the Independence Day of India), the gay community in Mumbai held its first ever formal pride parade (although informal pride parades had been held many times earlier), to demand that India's anti-gay laws be amended.[56] A high court in the Indian capital, Delhi ruled on July 2, 2009, that homosexual intercourse between consenting adults was not a criminal act,[57] although the Supreme Court later reversed its decision in 2013 under widespread pressure from powerful conservative and religious groups, leading to the re-criminalization of homosexuality in India.[58] Pride parades have also been held in smaller Indian cities such as Nagpur, Madurai, Bhubaneshwar and Thrissur. Attendance at the pride parades has been increasing significantly since 2008, with an estimated participation of 3,500 people in Delhi and 1,500 people in Bangalore in 2010.

As of 2017, plans were advancing by the State of New York to host in 2019 the largest international celebration of LGBT pride in history, Stonewall 50 – WorldPride NYC 2019,[7] to commemorate the 50th anniversary of the Stonewall Riots. In New York City, the Stonewall 50 – WorldPride NYC 2019 events produced by Heritage of Pride will be enhanced through a partnership made with the I LOVE NY program's LGBT division and shall include a welcome center during the weeks surrounding the Stonewall 50 – WorldPride NYC 2019 events that will be open to all. Additional commemorative arts, cultural, and educational programming to mark the 50th anniversary of the rebellion at the Stonewall Inn will be taking place throughout the city and the world.[7]
The 1950s and 1960s in the United States was an extremely repressive legal and social period for LGBT people. In this context American homophile organizations such as the Daughters of Bilitis and the Mattachine Society coordinated some of the earliest demonstrations of the modern LGBT rights movement. These two organizations in particular carried out pickets called "Annual Reminders" to inform and remind Americans that LGBT people did not receive basic civil rights protections. Annual Reminders began in 1965 and took place each July 4 at Independence Hall in Philadelphia.
The origins of Gay and Lesbian Pride month can be traced back to a turbulent weekend in New York City in June of 1969. On the evening of June 27th, the usual crowd gathered at the Stonewall Inn, a popular gay bar in New York City's Greenwich Village. New York Beverage Control Board agents and NYC police officers raided the bar to enforce an alcohol control law that was seldom enforced anywhere else in the city. Patrons were physically forced out of their gathering places, sometimes beaten, and often arrested with no just cause. On that night, lesbians and gay men spontaneously fought back against police harassment for the first time. Word spread quickly about the confrontation and large, outraged crowds gathered on ensuing nights to protest the mistreatment historically inflicted on the gay community. These protests came to be known as the Stonewall Rebellion. This uprising was the catalyst for the modern political movement for gay and lesbian liberation, calling for gay pride and action to secure their basic civil rights.
In March 2011, Toronto mayor Rob Ford said that he would not allow city funding for the 2011 Toronto Pride Parade if organizers allowed the controversial anti-Israel group Queers Against Israeli Apartheid (QuAIA) march again that year. "Taxpayers dollars should not go toward funding hate speech", Ford said.[185] In April 2011, QuAIA announced that it would not participate in the Toronto Pride Parade.[186]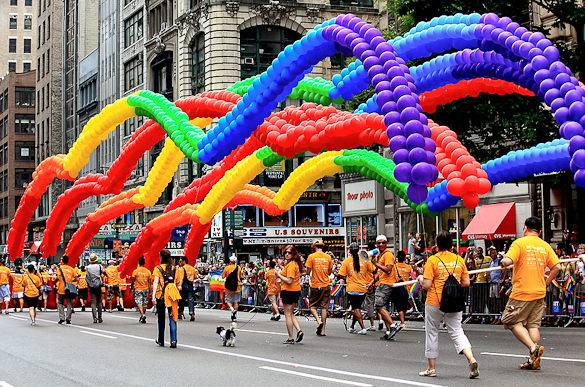 Pride parades (also known as pride marches, pride events, and pride festivals) are outdoor events celebrating lesbian, gay, bisexual, transgender and queer (LGBTQ) social and self acceptance, achievements, legal rights and pride. The events also at times serve as demonstrations for legal rights such as same-sex marriage. Most pride events occur annually, and many take place around June to commemorate the 1969 Stonewall riots in New York City, a pivotal moment in modern LGBTQ social movements.[4]