The collections of the Library of Congress contain many books, posters, sound recordings, manuscripts and other material produced by, about and for the LGBTQ community. The contributions of this community are preserved as part of our nation's history, and include noted artistic works, musical compositions and contemporary novels. The Library's American collections range from the iconic poetry of Walt Whitman through the manuscripts of the founder of LGBTQ activism in Washington, D.C., Frank Kameny.
June is Pride Month, a month to celebrate gay, lesbian, bisexual, transgender, queer, and asexual people, plus all other sexual orientations and genders.  The month is celebrated in June in commemoration of the Stonewall Riots, which kicked off the first major demonstrations for gay rights in America. On June 28, 1969 police raided the Stonewall Inn in New York City's Greenwich Village, but bar patrons — gay men and drag queens — fought back, a spontaneous incident which is now marked as the beginning of the gay rights movement in the United States. Brenda Howard, a bisexual activist, organized a march and other events to commemorate the one-year anniversary of the riots and is known as the "Mother of Pride." Today, Pride Month features marches around the country, educational and awareness events, and parties to celebrate gay pride! 

Even the most festive parades usually offer some aspect dedicated to remembering victims of AIDS and anti-LGBT violence. Some particularly important pride parades are funded by governments and corporate sponsors and promoted as major tourist attractions for the cities that host them. In some countries, some pride parades are now also called Pride Festivals. Some of these festivals provide a carnival-like atmosphere in a nearby park or city-provided closed-off street, with information booths, music concerts, barbecues, beer stands, contests, sports, and games. The 'dividing line' between onlookers and those marching in the parade can be hard to establish in some events, however, in cases where the event is received with hostility, such a separation becomes very obvious. There have been studies considering how the relationship between participants and onlookers is affected by the divide, and how space is used to critique the heteronormative nature of society.
In June 2010, American philosopher and theorist Judith Butler refused the Civil Courage Award (Zivilcouragepreis) of the Christopher Street Day Parade in Berlin, Germany at the award ceremony, arguing and lamenting in a speech that the parade had become too commercial, and was ignoring the problems of racism and the double discrimination facing homosexual or transsexual migrants. According to Butler, even the organizers themselves promote racism.[61] The general manager of the CSD committee, Robert Kastl, countered Butler's allegations and pointed out that the organizers already awarded a counselling center for lesbians dealing with double discrimination in 2006. Regarding the allegations of commercialism Kastl explained further that the CSD organizers don't require small groups to pay a participation fee which starts at 50 € and goes up to 1500 €. He also distanced himself from all forms of racism and islamophobia.[62]
Pride parades (also known as pride marches, pride events, and pride festivals) are outdoor events celebrating lesbian, gay, bisexual, transgender and queer (LGBTQ) social and self acceptance, achievements, legal rights and pride. The events also at times serve as demonstrations for legal rights such as same-sex marriage. Most pride events occur annually, and many take place around June to commemorate the 1969 Stonewall riots in New York City, a pivotal moment in modern LGBTQ social movements.[4]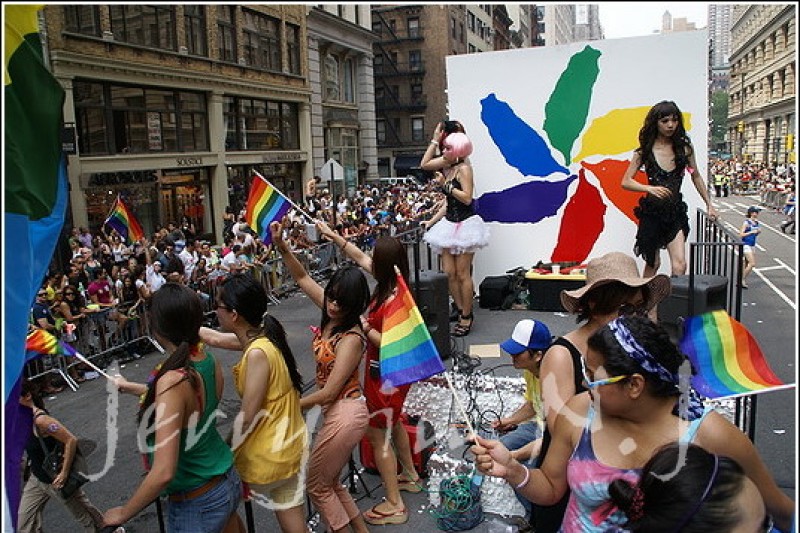 In a 2008 interview for the biography book La Reina muy cerca (The Queen Up Close) by Spanish journalist and writer Pilar Urbano, Queen Sofía of Spain sparked off controversy by voicing her disapproval of LGBT pride in addition to overstepping her official duties as a member of the Royal Family by censuring the Spanish Law on Marriage in how it names equal same-sex unions "matrimonio" (marriage). Albeit without using the slogan "Straight Pride", Queen Sofía was directly quoted as saying that if heterosexuals were to take the streets as the LGBT community does for Gay Pride parades, that the former collective would bring Madrid to a standstill.[56]
Early on the morning of Saturday, June 28, 1969, lesbian, gay, bisexual, transgender and questioning persons rioted following a police raid on the Stonewall Inn, a gay bar at 43 Christopher Street in Greenwich Village, Manhattan, New York City. This riot and further protests and rioting over the following nights were the watershed moment in modern LGBT rights movement and the impetus for organizing LGBT pride marches on a much larger public scale.
With misterb&b, travel the world renting cozy apartments, private rooms and amazing homes and be welcomed by the gay community everywhere you go! Rent a loft in Soho, share a room in Barcelona, a couch in the Castro or a cozy apartment in Le Marais or Chelsea! Come and try the misterb&b experience in all gay travel destinations! 135 countries and 310,000 listings - Together we are connecting the global gay travel community and helping it travel the world more safely. Should you encounter problems with misterb&b, please refer to our Help Center. misterb&b is not affiliated, endorsed, or otherwise associated with Airbnb
The Hong Kong Pride Parade 2008 boosted the rally count above 1,000 in the second largest East Asian Pride after Taipei's. By now a firmly annual event, Pride 2013 saw more than 5,200 participants. The city continues to hold the event every year, except in 2010 when it was not held due to a budget shortfall.[48][49][50][51][52][53][54][excessive citations][non-primary source needed]